Season Nine, Round One

The Red Corner


Iggy (Two-Week Champion)
Games: SMB3, SMW, M&L:SS, NSMBW, etc.
Sports Hall Record: 7-5, Round Three Qualifier, Rank 53
(more info)

The Green Corner



King Bill

The Yellow Corner



Ludwig

The Blue Corner


Karma
Games: Fan Character (Lemmy's Land Official)
Sports Hall Record: 0-1, Unranked
(more info)
***
Roy: It's time for another match, here at Roy's Sports Hall!
Larry: Another match?
Roy: ARE YOU SAYING THERE'S SOMETHING WRONG–
Larry: We do matches every week, Roy. It gets boring.
Roy: YOU– YOU–
Larry: Eek! Hit my left eye so they match!
Roy: YOU'RE ABSOLUTELY RIGHT!
Larry: Huh?
Roy: I've been thinking for a while, "If we did the same old thing every season, wouldn't the audience leave?"
Larry: They would.
Roy: No, because they love me so much! But if I did some crazy new thing and overcharged everyone, then we would be literally swimming in dough!
Larry: You don't mean lit–
Roy: I MEAN LITERALLY! I want to swim in bread dough.
Larry: That seems unlike you.
Roy: It's like quicksand you can eat! What's not to love? Anyways, I've got this thing under construction.
Larry: My! It's… uh… large. And flat.
Roy: It won't be done for a while, but trust me, it'll be worth the wait.
Larry: Let me just peek und–
BADA-BAM! CRASH!
Larry: Or not… ugh.
Pokey: Winner, Roy.
Roy: You know it! But seriously, Ludwig, time to announce.
Ludwig: Can it not wait? I am busy working on my new invention. It announces for me while I work on more inventions.
Roy: Well then, try it out before I send it to the scrapheap.
Ludwig: But there's still some bugs to iron out and–
Roy: I don't care! Either activate him or I punch you for wasting my time!
Ludwig: Fine, fine. Ludwig-bot, version 0.9! ACTIVATE!
Beeeep! Ba-ding!
Ludwig-bot: WELCOME-TO-THE-SPORTS-HALL. TODAY-IS-AN-EXCITING-MATCH-BETWEEN-TWO-SPIRITED-COMPETITORS.
Roy: Well, he certainly shows more emotion than you.
Ludwig: Shut up.
Ludwig-bot: IN-CORNER-#FF0000-IS-KOOPALING-NUMBER-FOUR-IGGY-KOOPA. ODDS-CALCULATED-AT-45%-VICTORY-48%-LOSS-7%-INTERFERENCE-BY-ROY.
Iggy: That seems about right. Except for the part where I lose!
Ludwig-bot: IN-CORNER-#3333FF-IS-NON-CANON-KOOPA-HYBRID-KARMA-KOOPA. ODDS-CALCULATED-AT-55%-VICTORY-44%-LOSS-1%-INTERFERENCE-BY-ROY.
Karma: Don't worry, my Met! I'll sweep your brother easily!
Ludwig-bot: ENGAGEMENT-CONCERNS-ARE-NOT-THE-CONCERN-OF-A-CREATURE-OF-METAL-AND-BOLTS.
Karma: Ludwig, tell that machine to stop it!
Ludwig: Stop that, Ludwig-bot.
Ludwig-bot: BEEEEEEEEEEEEEEP FZT INSERT COMEBACK HERE FZT
Ludwig: I will not tolerate that talking back!
Ludwig-bot: AND-NOW-IT-IS-TIME-TO-BEGIN-THE-MATCH. POKEY-START-THE-MATCH.
Pokey: Fight.
DING DING DING!
Karma: I'm not going easy on you!
Whoosh!
Iggy: Ha!
WHAM!
Iggy: HOW?!
Ludwig-bot: KARMA-RECOGNIZED-EASILY-TELEGRAPHING-IGGY-AND-HIT-HIM-WITH-BEEEEEEEEP INSERT NAME OF ATTACK FZT
Ludwig: *sigh* Whirling Fortress.
Ludwig-bot: BEEEEEEEEP HIT-HIM-WITH-WHIRLING-FORTRESS.
Iggy: How was I telegraphing that dodge?!
Karma: I'm sure not going to tell you!
Whoosh!
Iggy: Then I won't dodge! Take THIS!
ZAP! Hop!
Iggy: WHAT THE–
WHAM!
Iggy: ARGH!
Ludwig-bot: KARMA-EASILY-READ-IGGY'S-SIGNS-AND-JUMPED-OVER-SHRINK-RAY.
Iggy: WHAT SIGNS?!
Ludwig-bot: LUDWIG-BOT-IS-IMPARTIAL.
Iggy: Okay, poker face, poker face.
Karma: You're not touching my face!
Whoosh!
Iggy: That's not what I– Aw, whatever.
ZAP! FAZOOM!
Iggy: YES! Got–
Plink!
Iggy: What was that? A fly?
…
Iggy: Huh, it's a tiny egg. Wait. WAIT A–
BAM!
Ludwig-bot: SEEING-IGGY'S-INCREDIBLY-OBVIOUS-GIVEAWAY-KARMA-PRETENDED-TO-MISHEAR-HIS-ATTACK-AND-THREW-TWO-EGGS-ONE-DEALING-DAMAGE.
Iggy: Fine, then. AAAAAAAAARRRRRRRRGHHHHHHHH!!! FIRE FIRE FIRE!!
ZAP ZAP ZAP ZAP ZAP ZAP ZAP ZAP ZAP ZAP!
Ludwig-bot: IGGY-IS-FIRING-WILDLY-AROUND-THE-ARENA. 15%-OF-AUDIENCE-SHRUNKEN.
Karma: Whoops! You missed!
Whoosh!
Iggy: GOTCHA!
CLANG!
Karma: What the–
Iggy: HA!
ZAP! FAZOOM!
Karma: Oh no!
Iggy: Now to crush you like a bug! MEGA-SIZE!
ZAP! FAZOOM!
Iggy: I WIIIIIIIN–
Karma: Not so fast!
Whooooooosh!
Ludwig-bot: KARMA-IS-TRAVELING-UP-GIANT-IGGY'S-LEG. MOST-LIKELY-TO-ANNOY-CAUSING-RING-OUT.
Iggy: Well, in that case, I'll just shake you off!
Karma: That wasn't–
BOUNCE! Shatter!
Iggy: NO! NOOOOOOOOOOOOOOOOOOOOOOOOOOOOOO!!!
Ludwig-bot: KARMA-SHATTERED-IGGY'S-WAND-CAUSING-ALL-SIZE-MAGIC-TO-BE-UNDONE. ANALYSIS-SHOWS-THAT-ROY-COULD-HAVE-WON-HAD-HE-DONE-THIS.
Roy: Just for that you're getting shocked!
Ludwig-bot: I-AM-A-ROBOT-I-DO-NOT-FEAR-ELECTROCUTION.
Roy: Well you– uh– well, dang. I guess you're right.
Iggy: I can still beat you without the wand!
Karma: Are you kidding me? You're weak like a meringue.
Iggy: I have guile on my side!
Karma: Oh yeah?
Iggy: Yeah! I'll show you! Go–
Karma: HA!
Whoosh!
Iggy: –Chompy!
CRAAAAAASH!
Karma: GUAH!
Ludwig-bot: IGGY-SUMMONED-HIS-CHOMP-CHARIOT-TO-THE-RING. HE-HAS-DEALT-HIS-FIRST-BLOW-OF-THE-MATCH.
Iggy: NO EDITORIALS! I'm winning, aren't I?
WHAM!
Iggy: AAAAARGH! I've got egg on my face now!
Karma: It's over!
FLING! FLING! FLING! SMASH! SMASH! SMAAAAASH! Clunk clunk.
Chomp: Whiiiine…
Ludwig-bot: IGGY-IS-BURIED-IN-A-PILE-OF-EGG-SHELLS.
Karma: Ha! Looks like this match is over.
Pokey: Yes. Winner, Iggy.
Karma: Exactly! See, my Met? I truly am stronger than– I'm sorry, what did you say?
Iggy: He said the truth.
BWOING! WHOOOOOOOOOOOOSH–
Ludwig-bot: IMPOSSIBLE-LUDWIG-BOT-IS-WRONG.
Roy: Wow, I thought he wouldn't be like you at all, but he's actually really realistic.
Ludwig: Well, of cour– I mean, shut up.
Karma: Dodged!
BAM!
Karma: NOOOOOOOO! GAH! Ugh! Oof! Ugh.
Ludwig-bot: IGGY-USED-THE-CHARIOT-AS-A-DISTRACTION-TO-LAUNCH-HIMSELF-FROM-THE-ROPES. IGGY-IS-THE-WINNER.
Iggy: NOW who's telegraphing? Huh? HUH?
Ludwig-bot: AS-THREE-WEEK-CHAMPION-IGGY-WILL-BE-ANNOUNCING-INSTEAD-OF-MYSELF-OR-MASTER-LUDWIG. CONGRATULATIONS-IGGY.
Roy: Awwww, I hate that.
Larry: Hey, when you punched me into that thing, I got to see what it is. I must've missed the match, but I've gotta say that's the coolest TRANSMISSION INTERRUPTED I've ever seen! I mean, there's so many TRANSMISSION INTERRUPTED and it's all for TRANSMISSION INTERRUPTED!
Roy: I specifically designed it for TRANSMISSION INTERRUPTED. Hey, I think the wires are a bit loose. You should repair them with your tongue.
Larry: I'm my own man! You can't make me!
Roy: Well, then, I can just TRANSMISSION INTERRUPTED BEEEEEEEEEEEEEEEEEEEEEEEEEEEEEEEEP
Please enjoy some alternate programming.
Shy Guy: And that's why you edgehog after you nair!
The winner: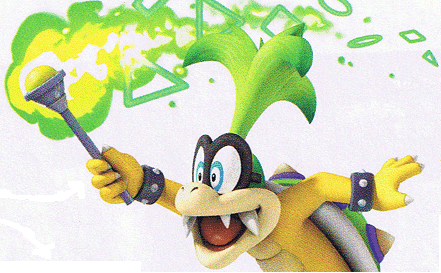 The loser: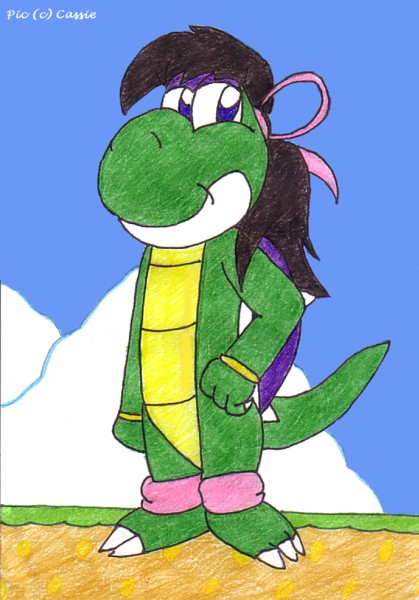 Voting Results (highlight to see):
1. Iggy: 54%
2. Karma: 46%
Nominee Results (highlight to see):
1. Dark Star: 40%
2. Morton: 13%
2. Bumpty Penguin: 13%
4. Gourmet Guy: 7%
4. Megaleg: 7%
4. Bowser Junior: 7%
4. Lakitu: 7%
4. Spike: 7%
X. Bowyer: 0%
X. Frogog: 0%
X. Shroob Chomp: 0%
X. Gloomtail: 0%
X. Megahammer: 0%
X. General Guy: 0%
X. Wario: 0%
Disallowed Nominations: You're not allowed to nominate these now - so don't waste your vote!

- Shadow Mario vs. Mr. L (only one nomination may be made at a time so both are disallowed; also, Mr. L is a retired season champion)
- Kamek (retired season champion)
- Eggman (not a Mario character)
- Lubba (not an enemy)
- Rowf (not an enemy)
- Octoboo (I don't have a picture of him
- Ludwig (already fought this season)
Email me.

Return to the main page of Roy's Sports Hall.

Return to the main page of Lemmy's Land.

Did you like this battle?
If you would like to leave feedback for this battle, please complete this form.

What's your name?
This is required.

What's your Email address?
Only enter this if you would like a response.

How do you rate this battle?
Please rate on a scale of 1 - 10, 10 being best.

Does this battle belong in Little Lemmy's Land?
Little Lemmy's Land is designed to include the top ten percent of submissions.

Comments and suggestions: