Season Nine, Round One
Headline Match!!

The Red Corner

Bowser Castle
Games: Mario & Luigi Bowser's Inside Story
Sports Hall Record: 1-0, One Week Champion, Rank TBD
(more info)

The Green Corner

Fawful
Games: M&L:SS, M&L:BIS
Sports Hall Record: 8-5-1, R3Qual & 1Wk Champ, Rank 39
_

The Yellow Corner

Fawful
Games: M&L:SS, M&L:BIS
Sports Hall Record: 8-5-1, R3Qual & 1Wk Champ, Rank 39
_

The Blue Corner

Peach's Castle
Games: Mario & Luigi Bowser's Inside Story
Sports Hall Record: New
(more info)
***
Roy: Welcome to the grassy field outside Roy's Sports Hall! Today we feature the clash of the castles!
Iggy: That's right, Roy.
Roy: Of course it is.
Iggy: I was just trying to get repartee going.
Roy: You know what happens when you use those pretentious words, right?
Iggy: You beat me up?
Roy: At least your tiny brain can understand the laws of cause and effect.
Iggy: Aaanyways, King Dad isn't here right now because he's piloting his castle.
Bowser: That's right! Bwahahaha! It feels great being back in control of the ol' death machine!
Roy: So he made you come back? Is this my punishment or something?
Iggy: Uh, actually, yes. You ate all the beef jerky.
Roy: We live in a castle! Why is King Dad so stingy about it?!
Iggy: Beats me. We should probably start before he gets angrier.
Roy: All right, I suppose. In the eastern field is the coolly unstoppable and unstoppably cool BOWSER CASTLE!
Bowser: BWAHAHAHAHAHA! Wait until you see what new instruments of pain I've got loaded onto this baby!
Roy: And in the western field, it's the pastel automaton, PEACH'S CASTLE!
Peach's Castle: Begin operation. Commencing combat protocol. Arming lasers.
Roy: Larry, which castle do you think's going to win?
Larry: The real question we have to ask here is, if King Dad's castle is stronger than King Dad was when he was giant.
…
Larry: Oh dear, either way I answer that question I'm in trouble. I'll just flip a coin.
Flip!
Larry: All right, Peach's Castle it is. I'll go ahead and skip into the electric chair now.
Roy: Good boy. Pokey?
Pokey: Fight.
DING DING DING!
Peach's Castle: Activate portal.
FASHOOM SHOOM SHOOM SHOOM SHOOM!
Iggy: The fight's starting up. Peach's Castle began with that black hole…
Bowser: HA! You think I'm going to fall for those fireworks again? FIRE!
FOOOOOOM! BLAM! FASHOOM!
Iggy: King Dad shot the portal out of the sky with a missile, and it landed behind Peach's Castle again! For such a large machine, it sure doesn't learn from its mistakes.
Peach's Castle: Warning: Attack interrupted. Defensive capabilities compromised. Beginning attack.
WHAM!
Bowser: Exactly where I want you!
FWOOOOOOOOM!
Bowser: Didn't think this giant statue of me was just for show, did you?
Peach's Castle: Fire detected! Beginning ejection of flammable material!
Bowser: I'd love a Mushroom, tha–
KABOOOOOOOM!
Iggy: What the?! Peach's Castle ejected a Shroob-omb!
Bowser: *cough, cough* Can't… see…
Peach's Castle: Beginning push protocol.
WHAM!
Bowser: What the?!
Iggy: Peach's Castle used the smoke screen to maneuver behind Bowser's Castle! This could be its chance to push the castle into the black hole!
Bowser: Makes no difference to me! FIRE!
KAFWOOM! BOOM! BOOM! BOOM!
Peach's Castle: Damage within controllable limits. Activating defensive program.
ZAP!
Iggy: Peach's Castle threw up that force field! How's Bowser going to get rid of it?
Bowser: There's no such thing as a perfect shield!
Iggy: I see, King Dad's figured out some kind of secret weapon to–
Bowser: FIRE EVERYTHING!
FOOM! FOOM! FOOM! FOOM! FOOM! FOOM! FOOM! FOOM! BOOOOOOOOOOOOOOOOOOOOM!!!
Peach's Castle: All missiles disabled. Releasing mobile units. Beginning invasion.
Bowser: This isn't good…
CRASH!
Bowser: So you think you can stop me with these little things? Fat chance.
Fawful-bot: Commencing invasion. Attacking operator.
PUNCH!
Bowser: Guargh! You think that's enough to stop me?
WHAM! WHOMP! Fling!
Iggy: King Dad effortlessly threw a robot twice his size out a window! But unfortunately, it's his castle that's fighting and without ammo…
Roy: Ammo… That's it! KING DAD!
Bowser: What is it, Son? Care to apologize about the jerky?
Roy: We have like five pallets in the pantry! Try stuffing robots into the cannons!
Bowser: BWAHAHAHAHAHA! Good idea! I always liked you best!
Roy: See, I told you so.
Iggy: Yeah, yeah, yeah.
Bowser: OUCH! THAT ROBOT SURE DID A NUMBER ON ME! IT WOULD BE VERY PAINFUL TO HAVE MORE ROBOTS ATTACK ME!
Peach's Castle: Verbal habits analyzed. Bad acting detected. Charging laser.
Bowser: This isn't good. Where am I supposed to find vaguely missile-shaped things?
…
Bowser: I can't. Not my beautiful statues.
Peach's Castle: Charging… charging… charging…
Bowser: It's a tough decision. But I suppose all my statues would be destroyed if… Fine. Minions!
CLUNK! CLUNK! CLUNK!
Peach's Castle: Fire.
Bowser: FIRE!
FOOOOOOOOOOOM! Foom! Foom! Foom!
…
Iggy: A huge hole's been blasted through Bowser Castle! I hate to say it, but…
Peach's Castle: Lowering shields. Victory has been decided.
Bowser: You bet it has!
KAFWAAAAAAAAAM! BOOM! BOOM! BOOM! BOOM! BOOM! BOOM! BOOM!
Pokey: Bowser Castle still standing. Winner.
Iggy: Looks like King Dad fired his statues in a high arc to avoid the laser, and hit Peach's Castle after it lowered its defenses!
Bowser: BWAHAHAHAHAHA! How do you like THAT, you pink jerk?
Roy: Well, the family feud's been settled.
Larry: Really? I forgive you, too.
Roy: I meant between King Dad and me. You're still getting shocked.
Larry: BLAGIDIAGIDIAGIDIAGGGGG! END TRANSMISSION!
The Winner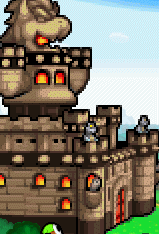 The Loser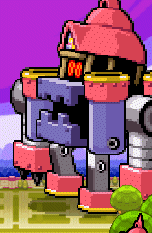 Voting Results (highlight to see):
1. Bowser Castle: 66%
2. Peach's Castle: 34%
Nominee Results (highlight to see):
1. Count Cannoli: 56%
2. Muth: 44%
Failed Nominations: These eligible fighters were nominated, but not often enough to make the ballot.
- Bob-omb, Bonetail, Bowser, Bulky Bob-omb, Fawful Express, Gooper Blooper, Grodus, Il Piantissimo, Kingfin, Koopa Troopa, Major Burrows, Midbus, Morton, Petey Piranha, Shy Guy, Tap-Tap the Red Nose, Tower of Yikk, Wario
Disallowed Nominations: You're not allowed to nominate these now - so don't waste your vote!
- Tec (not an enemy)
- Doopliss (retired season winner)
- Iggy (already fought this season)
- Mario (Mario)
- Dr. Wario (I don't think this is a different character from Wario, so vote counted for Wario)
- Lemmy (already fought this season)
- Roy vs. Mario (Roy already fought this season, Mario is Mario, only one choice may be made at a time)
<-Prev--Next->

Did you like this battle?
If you would like to leave feedback for this battle, please complete this form.

What's your name?
This is required.

What's your Email address?
Only enter this if you would like a response.

How do you rate this battle?
Please rate on a scale of 1 - 10, 10 being best.

Does this battle belong in Little Lemmy's Land?
Little Lemmy's Land is designed to include the top ten percent of submissions.

Comments and suggestions: