Season Nine, Round One

The Red Corner

General Guy
Games: Paper Mario
Sports Hall Record: 1-2, One-Week Champion, Rank 110
(more info)

The Green Corner






King Bill

The Yellow Corner






Ludwig

The Blue Corner

Fawful
Games: M&L:SS, M&LBIS
Sports Hall Record: 7-5-1, Round Three Qualifier, Rank 46
(more info)
***
Iggy: We're flyin' high at this round of Roy's Sports Hall, here from Roy's Doomship, the SS Eightcannon. We've decided to mix things up a bit!
Roy: And by that he means I'm sure not letting General Guy blow up my Sports Hall again.
General Guy: Well, I figured that–
Roy: YOU'RE BANNED, BUDDY!
General Guy: Okay, next time you want a prediction you can just get Larry again.
Roy: I'm sorry! I'll give you free hot dogs!
General Guy: No offense taken. It's worth it just to see the look on this moron's face when I send him plummeting to earth!
Fawful: EYAHAHAHA! I'm actually the–
General Guy: Your next word is "mustard!"
Fawful: …mustard of your– WHAT?! THIS IS NOT HAPPY!
Roy: Psh, anyone could've guessed that.
Iggy: Uh, should I get around to announcing these guys?
Roy: Yeah, sure.
Iggy: In the Red Cor– We don't have a red corner.
Roy: What?
Iggy: Do you have any paint or chalk or something?
Roy: I've got these leftover Mario Party spaces.
Iggy: In the Red Corner, it's the tactical, toymaking genius! Say hello to GENERAL GUY!
General Guy: Attention, troops! This battle will be a hard-fought victory, but a victory nonetheless!
Shy Guys: SIR YES SIR!
Iggy: And in the Blue Corner, he's been here so often he barely needs an introduction! It's FAWFUL!
Fawful: EEEEYAHAHAHA! EEEEEYAHAHAHAHAHAHA!
Iggy: And what's Larry's prediction today?
Larry: Didn't you just see where General Guy predicted Fawful's next line? Even I admit that was hardcore, and I hate General Guy. General Guy all the way.
Roy: Good enough. Pokey, start the match.
Pokey: Fight.
DING DING DING!
Fawful: Now is the DS Internal Clock of your DOOM! THE BOMBNESS!
FOOM! FOOM! FOOM!
General Guy: Hold steady, men! Formation Delta!
Stilt Guys: AAARAAAAA!
BOOM! Crackle crackle crackle… KICK!
Fawful: OUCH! HOTNESS!
Iggy: What a complex move! General Guy blocked Fawful's bombs with Stilt Guys, whose stilts lit on fire and then kicked Fawful with them!
General Guy: Try again!
Fawful: I will! The will that you will fall to the knuckle on the fist of your defeat!
ZAP! ZAP!
General Guy: Better, but–
Fzzt!
General Guy: You didn't think I prepared this tank for those lasers? Shy Stacks!
Shy Guys: STACKING!
Hop! Hop! Hop!
Iggy: General Guy's commanded some of his troops to form Shy Stacks! What's Fawful's next move?
Fawful: Haaaaaaaa…
General Guy: You're obviously aiming at the Shy Stacks! Time to fire!
Fawful: YOU ARE THE FOOL!
Poof!
General Guy: Wha-what the?
Iggy: A flying Fawful-faced block appeared above General Guy's head!
Fawful: FIRE!
General Guy: BLOCK IT!
Shy Guy: BLAGIDIAGIDIAGIDIAGGGGGG!!!
General Guy: Your game was not ended in vain!
Fawful: It was of the yes doing! FIRE AGAIN!
FOOM!
Fawful: … Wha?
Iggy: General Guy bought time in order to load the block into his cannon and fire it over Fawful's head! The tables are turned!
General Guy: SWARM HIIIIIIM!
SMACK! WHAP! PUNCH! WHAM!
General Guy: Too easy!
FWISH!
General Guy: Wha–
FOOOOOOOOOOOOOOOOM!!!
Iggy: Fawful raised a dome around the Shy Guys pummeling him, jumped out, and launched it into the sky! The tables are turned so hard it's like they never turned in the first place!
Fawful: Without the minions of your commanding, you're nothing but a spoony lieutenant!
General Guy: I am a GENERAL, you maggot! And if you want to say that again, come face me–
Poink.
General Guy: IN THE SKYYYYYY!
FOOOOOOOOOM!
Fawful: The fighting of the dogs is of your request? I shall be the special sauce on the turkey plate of DOOM!
FOOOOOOOOM!
Iggy: After General Guy's tank spawned an unimpressive set of wings, they've taken to the sky!
Fawful: FOOLISH FOOL! My bombs shall bomb you!
BLAM! BLAM! BLAM! BLAM! BLAM! BLAM!
General Guy: GWAH! AUGH!
Fawful: EEEEEYAHAHAHAHAHAHAHAHA–
General Guy: Lightbulb, fire!
BZAAAAAAAAAAAAAAPPPPPPPPPP!!!
Fawful: BLAGIDIAGIDIAGIDIAGIDIAGIDIAGIDIAGGGGGGGGGGGGGG!!!
Larry: WOAH! Even I've never been shocked that hard!
Roy: Note to self.
Fawful: …
Iggy: An attack that powerful you just know's knocked some of Fawful's screws loose!
Fawful: … Good sir.
Iggy: Orrrr in this case tightened them up.
Fawful: I apologize for my earlier language, which I admit was poorly-translated and all-around ghastly. The electric trauma you have dealt me is enough to have cleared my head of all lingering phantoms that have taken inn within it, and for that I thank you from the bottom of my heart.
General Guy: You're… doing whatever the opposite of speaking in tongues is?
Fawful: If my eloquence upsets you, I must apologize, but cannot desist, as it would be unmanlike of me to return to my original state. And the strategic decisions that I had eschewed in the past now occur to my head.
General Guy: Like…
Fawful: Instead of bombing your plane, which is so far ineffective, I can simply burn one of the wings off, as they are made of flimsy balsa wood.
General Guy: Oh, this is such a ripoff.
FOOM!
General Guy: TACTICAL RETREEEEEeeeeeeeeeeeeeaaaaaaaaa…
Twinkle!
Pokey: Winner, Fawful.
Fawful: Thank you, my spiny friend. From now on, I will look at life in a brand new–
KRAKOOM!
Fawful: EEEEYAHAHAHA! THE HEAD HAS BEEN RE-CLEARED THEN UN-CLEARED! GET THE GRAVEYARD DUCK TO LIVE LONGER!
Roy: What can you say? Things come, things go. Just like Larry's going to go out of this cannon!
Larry: *ulp* I hope we're over Water Land at least…
Roy: Actually, we're over Spike Land.
Larry: There is no Spike Land.
Roy: Yeah, I just sharpened all of the pipes in Pipe Land.
FOOM!
Larry: EEEEEEEeeeeeeeeend transmissiioooooooooonnnnn…
The Winner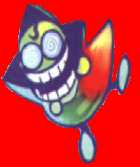 The Loser
Voting Results (highlight to see):
1. General Guy: 54%
2. Fawful: 46% - Lucky!
Nominee Results (highlight to see):
1. Croco: 36%
2. Gloomtail: 18%
3. Topmaniac, Megahammer, Podoboo, Jarvis, Gobblegut: 9%
X. Hooktail, Goomba, King Boo, Petey Piranha, Shadow Queen, Shadow Mario, Commander Shroob, Midbus, Waluigi, Wart, Boo, Bowser Junior, Mrs. Thwomp: 0%
Disallowed Nominations: You're not allowed to nominate these now - so don't waste your vote!

- Basilisx (not an official character)
- Lemmy (already fought this season)
- Huckit Crab (no picture available)
- Doopliss (retired season winner)
<-Prev--Next->

Did you like this battle?
If you would like to leave feedback for this battle, please complete this form.

What's your name?
This is required.

What's your Email address?
Only enter this if you would like a response.

How do you rate this battle?
Please rate on a scale of 1 - 10, 10 being best.

Does this battle belong in Little Lemmy's Land?
Little Lemmy's Land is designed to include the top ten percent of submissions.

Comments and suggestions: