Season Nine, Round Two, Finals

The Red Corner

ROY
Games: SMB3, SMW, M&L:SS, NSMBW, etc.
Sports Hall: 5-3 reg, Round Three Qualifier, Rank 49, ROY!!!

The Green Corner

Count Bleck
Games: Super Paper Mario
Sports Hall Record: 6-3, Rank 48
(more info)

The Yellow Corner

Cackletta
Games: Mario & Luigi Superstar Saga
Sports Hall Record: 5-5, Rank 75
(more info)

The Blue Corner

Chef Torte
Games: Super Mario RPG
Sports Hall: 5-5, Rank 74
_
***
Roy: At last, we're near the end of the first half of Season Nine! In the ring are two crowd favorites with approximately equal strength.
Count Bleck: How ridiculous, interjected Count Bleck! I've conquered entire dimensions! What can you hope to do?
Cackletta: I made Bowser wear makeup.
…
Cackletta: That did not sound as good as it did in my head.
Roy: Well, finally. For once, we can get a contestant who isn't a pushover like the others to get rid of Cackletta's annoying winning streak. The more I see her win, the more bad memories get whipped up.
Larry: What bad memories?
Roy: I was… I was… A MINIBOSS! *sob*
Larry: Oh, that. That wasn't so bad.
Roy: Speak for yourself! I deserve boss status in every Mario game at the least. Either that or I rip up the contract and go home.
Larry: That explains why you're in so few games.
Roy: What can I say, they just don't recognize a genius like me.
Bandit: I'm here! Sorry I'm late, I was pickpocketing the sky box.
Roy: I accept your fifty percent.
Bandit: I'm sorry?
Roy: I said I accept your apology.
Bandit: Yeah, yeah.
Roy: Now get to announcing! And then get to stealing while announcing!
Bandit: In the Yellow Corner is a melodramatic witch.
Cackletta: EEEEEYAHAHAHA! At last, victory is mine!
Bandit: And in the Green Corner is a purple guy who refers to himself in the third person.
Count Bleck: Only the most elite have that prerogative… claimed Count Bleck!
Roy: All right! By the end of this match, one or the other of these guys is going to be beaten to a pulp. Which means I win either way. But hey, let's go with a prediction anyways!
Larry: Eh.
Roy: I'll count that as a vote for Cackletta. Pokey!
Pokey: Fight.
DING DING DING!
Cackletta: HAHAHA!
ZAP! ZAP! ZAAAAAP!
Count Bleck: You'll have to do better than that to defeat Count Bleck!
Bandit: Count Bleck deflected the lightning with some kind of shield.
Cackletta: That was only the beginning, my good Count. Behold!
POOF! POOF!
Bandit: Cackletta's summoned two clones of herself… Which one is the real her?
Count Bleck: Ah, this attack. So reminiscent of my peon Dimentio. Ha!
BOOM! Squeak! Squeak! Squeak!
Count Bleck: What?! I guessed wrong?!
Cacklettas: INDEED!
ZAAAAP!
Count Bleck: BLAGIDIAGIDIAGIDIAGGGG! YOU WILL PAY!
Foom! Vwoooooooo…
Cacklettas: NOOOO!
BOOM!
Bandit: Very clever! Count Bleck created a portal that didn't let the bats from the fake one escape!
Cackletta: *cough, cough* That's enough. Time to show you the limits of my spellcraft!
Fwoop!
Count Bleck: A hole in the floor? How pedestrian, scoffed Count Bleck. I fly, you idiot! Why would you even think you could–
Cackletta: EEEEEYAHAHAHA!
Tremble tremble…
Bandit: What's going on?
FWOOOOOOOOOP!
Count Bleck: IMPOSSIBLE!
Thwoop! WA-BAM!
Count Bleck: ARGH!
Bandit: How did– The hole detached itself from the ground and flew into the air!
Count Bleck: You will–
POOF! POOF!
Count Bleck: Not again… I'll just–
Cacklettas: EEEEEYAHAHAHA!
Fwoop! Fwoop! Fwoop!
Bandit: Three holes have appeared in the air now!
Count Bleck: Now that I know what you can do, you won't be hitting me again.
Cackletta: We'll see.
WHOOSH! WHOOSH! WHOOSH! WHOOSH!
Bandit: I can hardly see what's going on up there!
Count Bleck: Those portals move so slowly I can practically have a snack at the same time! Is this all you can–
Cackletta: Aha!
ZAAAAAAP!
Count Bleck: BLAGIDIAGIDIAGIDIAGGGGG! Ugh…
Bandit: Count Bleck's falling to earth!
Cackletta: Not so fast!
FWOOP! FWOOSH FWOOSH FWOOSH FWOOSH FWOOSH FWOOSH FWOOSH…
Bandit: Count Bleck's being thrown in between two portals! If he hits the ground, it's game over if he doesn't have any extra lives!
Cackletta: EEEEEEEEEYAHAHAHAHAAA!
CRASH!
…
Count Bleck: Was that truly all you can muster, taunted Count Bleck?
Bandit: Ooh, I think we had all forgotten about that shield! He still looks beaten up, though…
Cackletta: You're a tough one.
Count Bleck: I am a final boss, after all. But no more talking.
ZAP! ZAP! ZAP!
Count Bleck: HAHAHAHAHAHAHAHAHAHAHA! …laughed Count Bleck.
FWOOOOOOOOOOOOOOOOOOSH!
Cackletta: Guh…GUAAAAAAAH!
Bandit: All three Cackletta clones were pulled into a truly massive portal! I can't see anything going on in there, but…
…
Fwoooooop!
Bandit: Whoops, never mind! Count Bleck reduced the portal to a tiny little dot and Cackletta's nowhere to be seen!
Count Bleck: And thus, you are erased.
Pop!
Pokey: Winner, Count Bleck.
Count Bleck: Truly another astonishing victory. Now if you will excuse me, I must rest in preparation for Round Three.
FWOOSH!
Roy: All right! The next match is Round Three and then we can finally get moving on the next part of the season!
Larry: Yeah, but if the voters act like they did this round…
Roy: Don't mention that, you're just encouraging them! Now get in the chair.
Larry: I don't think it deserves that much–
Roy: No, don't you remember? You lost your prediction.
Larry: I don't remem– Wait…
***
Larry: Eh.
***
Larry: Wait, I didn't mean it! I was playing Pilotwings!
Roy: Ooh, really? I'll take that.
Larry: And you'll let me go?
…
Larry: Who am I kidding?
Roy: Good boy.
Larry: BLAGIDIAGIDIAGIDIAGGGG! END TRANSMISSION!
The Winner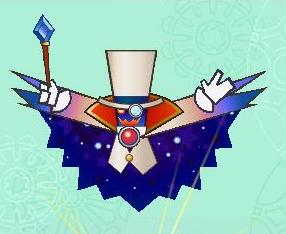 The Loser

Voting Results (highlight to see):
1. Count Bleck: 67%
2. Cackletta: 33% - Knocked out!
_
Failed Nominations: These eligible fighters were nominated, but not often enough to make the ballot.
- All nominations will roll over to the second half of the season
Disallowed Nominations: You're not allowed to nominate these now - so don't waste your vote!
- Playful (unofficial fan character)
- Axem Blue (doesn't exist)
- Iggy (already fought this season)
- Evil Monkeys (are you bananas?)
<-Prev--Next->

Did you like this battle?
If you would like to leave feedback for this battle, please complete this form.

What's your name?
This is required.

What's your Email address?
Only enter this if you would like a response.

How do you rate this battle?
Please rate on a scale of 1 - 10, 10 being best.

Does this battle belong in Little Lemmy's Land?
Little Lemmy's Land is designed to include the top ten percent of submissions.

Comments and suggestions: